Who, How, and the Why
In this world there is nothing more important than our values, morals, and the care for others. To be human is to care for our community. We, at Ahlouna, are here to care for those who need it. We want to give everyone the opportunity to blossom; no one should be left behind in these tiring times and that is what we are about.
Ahlouna's focus is the vulnerable population of women, youth, children, elderly and the disabled. We are a non-governmental organization that works to better the situation of those within Saida.
Saida is our home. When we sit in the open spaces, in each other's homes and reminisce about our childhoods we share stories of aspirations and dreams. Dreams of doing well in school, finishing our educations, and working to do good. We had dreams that today we have accomplished and continue to reach for. At Ahlouna we want to provide others the experience of this human right. The right to dream and achieve those dreams.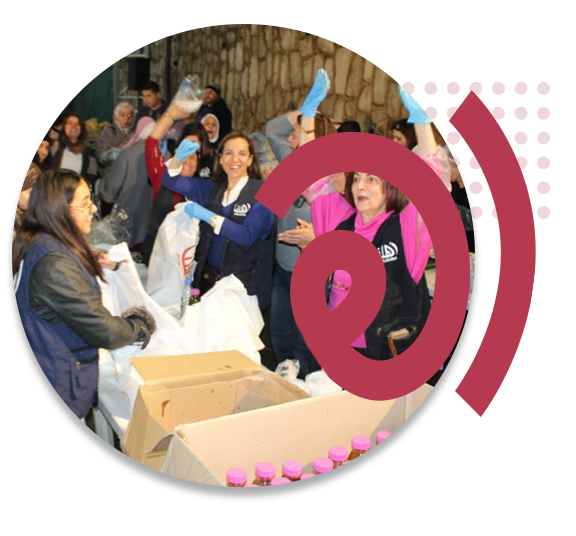 Going beyond what we started, we at Ahlouna are happy to say that our main purpose behind the formation of this association is to make marginalized women economically and socially independent through providing them with job opportunities. With time we have been able to expand and provide sustainable educational and social services that target women, youth, children, elderly, and the disabled.
Our Essence
Our essence flows with the ideal that we should all care for one another, to move grow and support as one. A prospering community entails happy, fulfilled, and self-sufficient members. Personal growth is the precedence; education precedes personal growth.

Every person has the ability and capability to use different skills to benefit society by producing and creating a healthy life. Communities need their residents to feel connected, supported, and accepted in order to grow in a safe environment. Everyone has a place in society and should feel appreciated, even during difficult times.

For example, in 1998 we took the step to create a factory where cookies, jams, and all sorts of traditional Lebanese foods and delights were prepared to be sold by women of the area. These women had previously been working from home to sell the goodies after having been taught the cooking and baking skills by Ahlouna. The shift to Ahlouna's new center was a move to expand capacity to grow.

Women from Saida are to this day baking and cooking, whether full-time or part-time, to spread the joy of the yumminess with use of only local products to support the local market.

As an association we use the proceeds of the baked goods to cover the costs of Ahlouna's other programs such as the social and educational programs. Together we grow, support, and move together to improve our home.
At Our Core
At our core we want to empower women, youth, and children to boost their personal growth through education. To help find work opportunities to create a higher number of autonomous persons is the goal. When we have the basic necessities of shelter, food, water, and the ability to feel productive and useful, as a community we can focus on being one wholesome team caring for all and our residence.
Get in Contact
We are ready and waiting to hear from you.
For absolutely any inquiries, questions, or conversation starters,
reach out to us by phone or pop in a message!